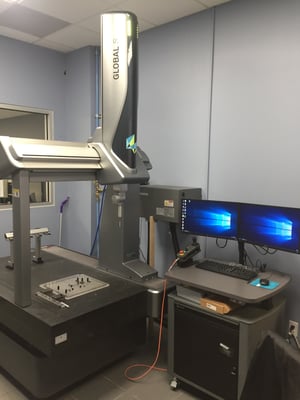 A coordinate measuring machine (CMM) is a device that measures the physical geometrical characteristics of an object, and in our manufacturing application – plastic parts. The device is often used in manufacturing processes to qualify or test a part or against the design intent.
The machine can be manually controlled by an operator or automated to be computer controlled. Measurements are collected by a probe attached to the moving axis of the machine. By recording the coordinates of the object, points are generated and analyzed for the construction of a part's features. The points are collected and can be repeatedly measured to test identical parts, and then analyzed by technicians.
What are the benefits of CMM Dimensional Testing?
CMM's are unique technology that can save plastic injection molding customers valuable time to market and cost. As parts become more complex, the requirement for precise measurement and ultimate consistency among any volume of parts is essential. This is where using an injection molder that utilizes CMM dimensional testing capabilities will help produce the results your company and products require. By verifying product quality, 3D inspections, tool certification, CAD comparison, reverse engineering, and dimensional analysis, CMM offers unparalleled authentication that you can trust.
Other CMM dimensional testing benefits include:
Increased measurement by staging multiple parts, programming offline, and less part orientations
Increased accuracy on challenging part geometry
More data points on complex curves, surfaces, and profiles that are common in the industries PCI serves
Plastic Components Inc. uses the Hexagon 7.10.7 CMM dimensional testing machine. The machine is considered to feature the most powerful metrology software and intuitive graphical user interface that guides technicians through part programming and inspection.
The option of offline programming allows technicians to develop inspection routines while leaving the machine free to measure. Geometry can be selected, and parameters defined by reviewing the CAD model. As data is automatically extracted from the CAD model, time is saved, and costly errors are eliminated.
The key features of PCI's CMM dimensional testing system are:
Large work zone
Motorized head
Active scanning probe
Automatic probe changeover
Off-line parametric 3D programming
Quality control in plastics manufacturing can present challenges; however, the use of CMM dimensional testing offers an innovative solution that guarantees highly repeatable results and dimensional reports for a customer.
PCI has the most advanced technology and equipment, along with the technical expertise and experience to successfully produce the highest quality plastic parts for your unique application.
Are you looking for an experienced injection molder that uses scientific molding practices including CMM dimensional testing? Learn how PCI goes above and beyond to be a supplier you can trust.