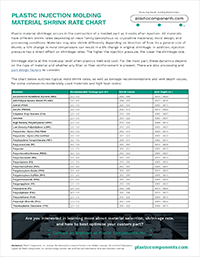 Plastic material shrinkage occurs in the contraction of a molded part as it cools after injection. All materials have different shrink rates depending on resin family (amorphous vs. crystalline materials), mold design, and processing conditions.
This Molding Material Shrink Rate Guide outlines typical mold shrink rates, as well as tonnage recommendations and vent depth values, for some common-to-moderately used materials and high heat resins.
Complete the form to receive the free guide.