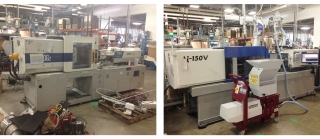 InJune of 2014, we retired one of our longest standing and operating presses. Press 18 had produced over 100,000,000 components during her tenure and was one of our most reliable machines in our facility. However, after over a decade of service, it was time to invest in a replacement.
At PCI we are comitted to reinvestment within the business. With that mindset, we have purchased a brad new, state of the art, Toyo Electric Injection Molding Machine to replace Press 18. This new machine has been hard wired with RJG technology and is part of a fully automated manufacturing cell, which includes a new robot and updated part conveyance systems. This press will be run more quietly than her predecessor and will actually use less electricity. Our extensive preventative maintenance program will ensure that she has a long and bright future ahead of her at PCI.
This commitment to reinvestment allows us to remain on the leading edge of the technological curve in terms of injection molding. It is the cornerstone of our business model and allows us to operate at a very high level that our customers have come to expect and deserve.