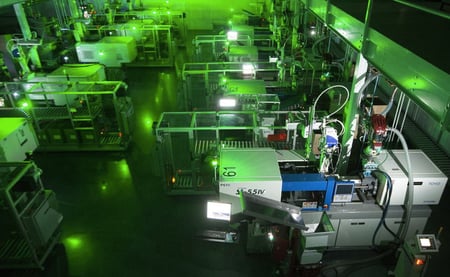 Future success for many injection molders is dependant on the company's ability to find efficiencies and innovative ways to improve business processes. Even small improvements can add up to big increases in productivity. Each year, the Manufacturers Association for Plastics Processors (MAPP) celebrates the innovative practices of a select handful of companies that touch on all areas of plastics manufacturing. To celebrate the commitment these companies show to innovation, MAPP instituted its annual Best Practices Awards series, dedicated to honoring companies that are finding ways to get ahead in an increasingly competitive marketplace and elevate the industry as a whole.
The 2019 MAPP Innovation Award was focused on workstation layout. PCI was honored to receive the second-place award by demonstrating efficiencies in these key areas:
Reduce motion and waste
Optimize ergonomics
Create standardization
Eliminate confusion
Increase workplace safety
Reduce takt time
Maximize space
Increase overall employee and/or workplace efficiency
"We felt that the processes we've put into place at our Bunsen Drive facility address many of the factors that the MAPP Innovation Award required," said Lucas Hundersmarck, manufacturing engineer for PCI. "We considered other functions and processes within our business, but Bunsen Drive checked every box when we reviewed the requirements for the award. In fact, it was such a good fit that every other idea presented paled in comparison."
About PCI's Lights Out Manufacturing Facility - Bunson Drive
Lights-out manufacturing describes processes, innovative machinery, and technology that is put into place within facilities to conduct tasks that would normally need a human present. Essentially, the production facility can run "lights-out" – or without substantial assistance from human labor, lights, heat, and other costly factors for a business. Lights-out manufacturing processes also allow companies to keep facilities running 24 hours a day, seven days a week without the need for multiple workforce shifts.
PCI's Bunsen Drive facility has operated on a fully-automated "lights-out" basis since opening in 2011. The decision to build the Bunsen Drive facility was driven by the fact that the PCI team wanted to reduce overhead while still maintaining production. The company's first attempt at running lights-out processes took place at the flagship Morse Drive facility, but it was soon discovered this move would not result in the desired efficiencies.
"It was decided that if we were going to do lights-out manufacturing, we were going to do it right," said Hundersmarck. "Therefore, we designed the Bunsen Drive facility under strict limitations of space - ensuring we got the maximum amount of efficiency out of every square foot of space."
After operating for four years with peak production capabilities, 2016 marked a notable year for the Bunsen Drive facility when a 23,000 square foot expansion was made, doubling the expected number of cells from 20 to 40.
The PCI team believes incorporating lights-out processes will be the future of manufacturing and the Bunsen Drive facility is truly one of a kind. The United States Government issued PCI a patent to validate the processes that take place within the facility. Every detail from the lighting to the part conveyance system has been meticulously planned. This attention to the little nuances of a manufacturing plant is what separates this facility from others in the world. Additionally, infrastructure expansions have set the stage for the additional production presses to come in the future.
Hundersmarck added, "What sets PCI apart from other injection molders is that we are one of the only companies to have a facility like this. To our knowledge, no other facility combines such a degree of automated activity, while maintaining a high production rate and low overhead.
PCI's 2019 MAPP Innovation Award Submission
The unique angle PCI took when completing the company's 2019 MAPP Innovation Award submission likely played a major role in the recognition received. Rather than highlight the function of a specific work station, PCI broadened the scale and focused on the innovation and efficiency of the entire facility. Showcasing the use of space, the technology incorporated into running the facility on a lights-out basis, and the unique operational features were among the many attributes that set the Bunsen Drive facility apart.
Hundersmarck remarked, "The details incorporated into our facility would be very difficult to replicate, which we believe made the submission stand out to the voters. They could see the innovation incorporated into the facility, and recognized the work we put in to get it that way."
PCI's Bunsen Drive Lights-Out Technology
PCI's Bunsen Drive facility is a fitting example of the significant transformation taking place in the way products are produced. The digitization of manufacturing, often called Industry 4.0, represents the fourth revolution that has occurred in manufacturing. Computers were introduced in Industry 3.0, and now as Industry 4.0 develops, computers are not only used in production facilities, but communicate with one another to make decisions that do not require critical human involvement.
Within PCI's Bunsen Drive facility, video cameras monitor the automated production so that skilled engineers can observe what's happening in the plant from the headquarters building, or anywhere from an iPad app. If something goes wrong with the production, the machines sense it and shut themselves down.
With precision guidance, molding presses ranging from 35 to 500 ton, have the ability to carry out specific repetitive actions without variations and adapt to different part types via intelligence-based features. Additionally, the acquisition of a five-ton crane now allows the facility to be outfitted with larger machines.
Other stand-out technology features include the use of a coordinate measuring machine (CMM) - a device that measures the physical geometrical characteristics of an object, and in PCI's manufacturing application – plastic parts. The device is often used in manufacturing processes to qualify or test a part or against the design intent. PCI has also invested over $1.2 million with RJG eDart® to boost molding and operational capabilities. RJG eDart process control systems are incorporated on all of PCI's injection molding presses. This system has helped with reducing scrap rates and processing time, while allowing technicians to actively monitor job performance and process variation.
What's Next for PCI?
Advancements in automation and lights out manufacturing processes are happening every day. Despite the ever-evolving technologies, lights-out methodology does not allow a business to run completely human-free. In fact, it requires a knowledgeable workforce that is adept at careful planning, programming, maintenance, and more. "The most accurate way to view the concept is that automation works with people, rather than replacing them," said Hundersmarck. "It's an opportunity for an injection molder to optimize and create efficiencies in regard to the way its team works on a daily basis. PCI remains dedicated to attracting, training, and advancing a highly-skilled workforce.
The MAPP Innovation Award is a testament to the gold standard that has been set by the Bunsen Drive facility for lights-out manufacturing processes. PCI intends to continue this trend by focusing on and broadening its automated, value-added services.
Are you looking for an experienced injection molder that implements cutting-edge, efficient lights-out manufacturing practices? Learn how PCI goes above and beyond to be a supplier you can trust.