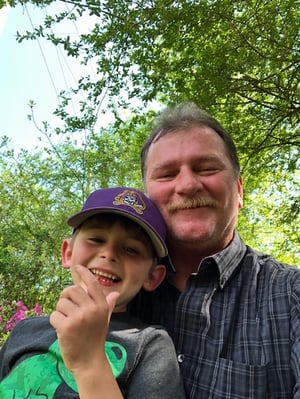 As announced here, PCI acquired Syracuse Plastics of North Carolina (SPNC) in March of 2019. SPNC's former owner and CEO, Tom Falcone retired, setting in motion the promotion of its 19-year tenured employee, Durwood Williams, to the General Manager role.
In this post, we'll share some highlights of SPNC, its updated mission statement, and introduce you to Durwood. Not only will you discover what makes the GM tick, but we'll also discuss what he wants for the company, its people, customers, and shareholders.
About Syracuse Plastics of North Carolina
SPNC is located in Cary, North Carolina. Founded in 1980, Its 55,000 square foot facility serves as a regional manufacturer and full-service injection molder of precision components and assemblies. It serves a wide range of markets, including plumbing, appliance, filtration, automotive, engine, medical, and telecom, to name a few.
Why did PCI acquire SPNC?
There were several attractive reasons for SPNC to come under the PCI umbrella. First, it met PCI's strategic goal for inorganic growth. As such, it will serve to expand PCI's product portfolio and regional footprint. The move will also provide PCI the room to grow by adding more injection molding machines in the NC facility. Furthermore, with SPNC's secondary manufacturing options, assemblies, and robust post-molding capabilities, the company will be ideally suited and better equipped to serve customers' turn-key needs.
SPNCs Mission Statement

SPNC is dedicated to providing engineered thermoplastic products supported by value-added manufacturing processes built on a commitment to quality, innovation, service, and employee development driving profitable growth for all stakeholders.
What's your background before life at SPNC, and what's been your work experience at the company?
My formal education was at Johnson Community College in Smithfield, North Carolina. But I'm a firm believer in the school of hard knocks. Which, for the most part, is all about learning by doing.
And I found there's no better way to learn on the job than through apprenticeships. I began my career with an apprenticeship in plastics, starting with maintenance. Through the years, I supplemented my work know-how with continuing education courses that further expanded my knowledge base.
SPNC hired me in 2001 as a manufacturing manager. I reported to the operations manager and was responsible for molding operations. Next, I received a promotion to operations manager with the added responsibilities involving engineering, shipping/receiving, and tool room maintenance.
Shortly after the sale of SPNC to PCI in March of 2019, I became its general manager and picked up responsibility for the P&L of the company while leading the finance, customer service, and HR teams.
Having worked at SPNC for 19 years, how would you describe its culture?
We focus on the business and the needs of our customers. That said, family values and striking a balance of work, having fun, and enjoying what we do is a vital part of our culture. I'm proud of our dedicated team, and my philosophy is to invest in people; it shows in how we focus on servicing the customer.

Some words that I live by and share with the team are:

· Conceivable - Conceptually possible

· Believable - Have to believe in it

· Achievable - Within reach

· Measurable - How much, by when

· State with No Alternative- I shall
What are some of the main factors that set SPNC apart from its competitors?
It all starts with our employees. They work as a team and strive for excellence. We are a full-service plastic injection molder. So our people and the nature of our business form the foundation of differentiating ourselves in the marketplace. Add to that our customer interactions with sales and engineering, a wide-range of molding capabilities and tonnage, and a wide variety of secondary operations -- it all adds up to a winning combination.
You mentioned customer interactions, what is SPNC's customer service philosophy?
I believe in transparent communication, and that is seen throughout the organization and even with our customers. For example, our customer service team looks at customer order patterns and inventories. They frequently speak with our customers about what they are seeing and share helpful insights that could benefit their business. Our whole company team spends time getting to know the companies we serve. But it goes deeper than that. They not only get to know the company, but they also get to know the people at the company, and in doing so, build strong, trusted, and mutually beneficial relationships with them.
How has the acquisition by PCI changed the business?
From the very beginning, the entire sale process with PCI went exceptionally well. It's clear that SPNC and PCI make for a great fit; we complement each other very well. We had a 100-day plan for post-acquisition activities, and the entire PCI leadership team was extremely helpful in getting SPNC off to a strong start. The additional resources PCI have added in terms of equipment and people has been remarkable. Also, the added financial capital and company-wide information and knowledge support have helped put us on a terrific growth plan. I've seen great synergies between the two companies -- both in terms of people and capabilities of each location.
What are you most excited about for the business in the months and years ahead?
I'm excited to see how the energy and synergy of the two companies working together play out. You may, in a typical merger or acquisition, realize a 1 + 1 = 2 outcome. Together, as we focus on all our stakeholders, we can achieve much more. And the exciting piece of this is our employees recognize this too, and we are growing.
Tell us a little about your personal side and what you enjoy doing outside of work.
Proud to say I'm a part of seven generations all hailing from Clayton, NC. I'm happily married to a wonderful woman who not only tolerates me but completes me and has my back, always. We're blessed with four sons and two grandchildren.
I enjoy cooking, hunting, and fishing. Sorry, I have no wild fish story to tell about the one that got away! Keeping family close and spending time with them is what I love to do the most.
Lastly, I like to lend a hand to people when they don't even know it. I believe in investing in people to see them grow. And that's what I endeavor to do through both my family and GM roles.