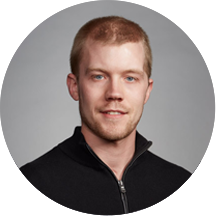 In part two of our series "What's Ahead for Plastics Manufacturing," we talked with Chris Laverty, manufacturing engineer with Plastic Components, Inc. Chris shared his perspective on how technology has made an impact on the industry, what Plastic Components, Inc. does differently and how the company maintains a competitive edge.
We wrap up our series in this discussion with Shane Johnson, a recent engineering graduate who has worked with Plastic Components, Inc. for one year. In the Q&A below, Shane will share his thoughts on communication tactics among industry professionals, areas of focus for 2017 and why he pursued a career in plastics.
Q: Do plastics manufacturers generally share best practices among other industry representatives / companies?
A: From what I have witnessed during my time in the plastics industry, many companies are willing to collaborate and share with one another on best practices. In my opinion, those that take notice of other manufacturer's practices and ask questions will advance within the industry at a quicker rate. It's clear that when representatives from different businesses get together and bounce ideas off of one another, everyone prospers. I read something once that said, "There's a better way, find it!"
Plastic Components Inc. is a member of MAPP (Manufacturers Association of Plastics Processors), and I have had the privilege of attending one of their events. What I saw was a large number of industry representatives who got together and talked about their business and area of expertise. It was a very positive atmosphere where everyone was friendly and eager to chat about the latest and greatest technologies. The venue for this gathering was at Elva-Strum High School in Eau Claire, WI. This high school is unique because they offer a specialty in training for skilled labor called Cardinal Manufacturing.
The school identified a need for young skilled labor with the timing of the baby boomer generation moving into retirement. The school teaches selected students hands-on technical skills in a business atmosphere and the students absorb the valuable soft skills every employer needs. Seeing this program in action was an incredible opportunity. Leadership from various manufacturing companies came together to discuss and learn how they can work collaboratively to ensure the next generation will be given the skills needed to be valuable assets within the industry.
Q: What do you think will be a big topic of discussion in the industry in 2017?
A: Just as high schools and post secondary education schools are recognizing, there is a tremendous need in manufacturing for valuable skilled labor to step in to an aging workforce. The students who participate in the Cardinal Manufacturing program at Elva-Strum High School actually receive a paycheck because they are doing skilled labor in roles such as human resources, marketing, administrative, laborers and more. They are given real business situations in which they have to implement problem-solving, management and teamwork skills. As more schools offer programs that provide hands-on experience for students, I see businesses leaning on these programs to be an important component in recruitment efforts.
Q: As a young professional in plastics manufacturing, what motivated you to pursue a career in this industry?
A: Prior to my employment at Plastic Components, Inc., I attended Ferris State University in Big Rapids, MI. After high school graduation I had no idea what I wanted to do when "I grew up". I entered the university with minor CAD skills. I entered the CAD Drafting & Tool Design program which is a two-year associates degree. Part of the curriculum is a mold design class that drew my attention to the plastics field. I learned that I would be required to take on an internship at a tooling company. I also learned that I did not want to stare at a computer screen 8 hours a day for the rest of my life.
The 2-year degree transferred well into the plastics engineering program at FSU. I was told that this program had 100% job placement upon graduation, which still holds true. So I thought why not? It could be a great opportunity. When I entered the program, the graduating class for the current year was roughly 15 students. When I graduated, there were almost three times the amount of students and the future graduating classes below me were even bigger yet.
Plastics engineering teaches various topics in the field from basic processing to advanced material science, and of course all of the required general education classes. I also learned about the other processing methods, (i.e. blow molding, thermoforming, extrusion, roto-molding etc.) but what peeked my interest was injection molding and all the science that backs it. When I graduated in December 2015, I had the opportunity to choose between 4 full-time job offers. Ferris State University not only prepares its students well for the plastics industry, it is also an incredible resource for manufacturers looking for young talented graduates.