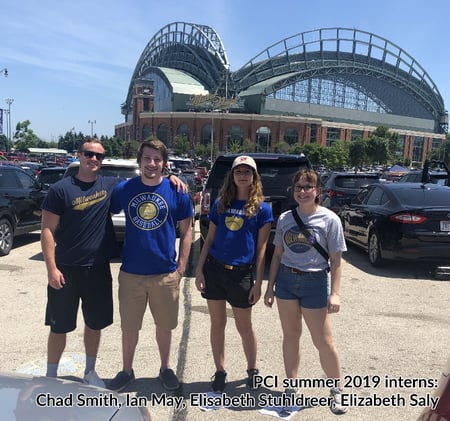 Currently, the plastics industry employs nearly one million workers throughout the United States and is the third-largest manufacturing industry. Nationally, Wisconsin is ranked eighth in plastics industry employment. As the magnitude of our state's prominence in this industry increases, injection molding, manufacturing, and prototype development solidifies its place as a progressive opportunity for plastics technology students who are open to employment in the Midwest. There continues to be a growing need within the plastics industry for technically trained personnel excited about the changing advancements in engineering, automation, and manufacturing.
With the ever-increasing need to provide value to customers and improve efficiencies, the plastics industry is paving the way for the new generation of automation, cutting-edge software, technology capabilities, and manufacturing innovation.
When students set out to obtain an internship, gaining valuable experience and future employment is most likely top of mind. As such, a study conducted by the National Association of Colleges and Employers reveals that over 66 percent of Class of 2019 graduates who had a paid internship received a job offer.
PCI recognizes the value of investing in the next generation of plastics industry professionals and offering attractive employment opportunities. In the summer of 2019, four interns took part in the company's internship program. I had the chance to sit down with two of the participants to learn about their experience.
Chad Smith is from Grand Rapids Michigan and is currently starting his senior year at Ferris State University where he is majoring in plastics engineering.
Elizabeth Saly is from the Twin Cities in Minnesota and is currently starting her senior year at the University of Wisconsin - Stout where she is majoring in plastics engineering.
Meeting the PCI Team
Q: Why are you pursuing a career in plastics and how did you learn about PCI's internship program?
C: I floated around for a year at community college before committing to attend Ferris State University. I decided plastics was for me because of the potential growth, ability to travel for work, and because it is such a broad industry that spans the world.
I learned about the internship with PCI by attending a job fair at my school during my Spring semester of last year.
E: I gravitated towards a degree in plastics engineering at UW-Stout because I liked the potential for opportunity that will be presented once I'm out of school. The degree in plastics is more focused than other engineering degrees, and that was something that appealed to me.
I met Wendi Jay, PCI's human resources manager, at a job fair at UW-Stout in the fall of my junior year. The information she shared helped me understand how valuable the internship experience could be for my future career.
Q: How would you explain your onboarding experience?
C: I knew right away that this experience was going to be very different than my last internship. In my first internship, I got dirty every day. This internship, I wanted to learn a little more about being behind the scenes - the design aspects of the job.
It was really nice that PCI provided fully-furnished housing that was walking distance away from the facility, and activities that helped us get to know the city of Milwaukee during our down-time. It gave each of the four interns an opportunity to get to know one another and share what we were learning each day.
E: I was really excited about the opportunity to be a rotational intern where I would have the opportunity to transition through the quality department, the tool room, setup, and project rotation. In my first few weeks, I got a really holistic view of plastics engineering and injection molding.
My biggest area of weakness coming in was not having a good understanding of design analysis. I didn't know what to look for before - in fact, it made me nervous to look at molds. Getting exposure to the tool room helped me overcome my fear.
Obtaining Hands-on Plastics Manufacturing Experience
Q: What areas of focus did your internship include?
C: Because I wanted to be more behind-the-scenes with this internship, I had a fantastic opportunity to see what qualifies a tool and how it gets to the finish line. Before my internship with PCI, I had a narrow view of what plastics engineers could do.
Now I know how broad the opportunities are for those who work in this field. Every company is different in what they require of their engineers - that was very eye-opening for me.

Being in the design department taught me what an incredible quality critical team PCI has, and the importance of being very precise.
E: I also had the same realization that this profession is not as narrowly-focused as I thought. I had the opportunity to get to see a lot of different areas and learn from many team members. I walked away with a better understanding of how I work best in the different areas of engineering. Specifically, working in the tool room really helped me gain a better understanding of how to look at design analysis.
Incorporating Valuable Plastics Technologies
Q: What were some of the plastics technologies you were exposed to during your internship?
E: One of the most surprising aspects of my internship with PCI, was learning about how well the company uses RJG technology. Over the years, PCI has invested $1.2 million with RJG eDart and now has the capability to use RJG process control systems on all injection molding presses. It was interesting to learn how this system helps with scrap rate and process time reduction. It also gives the opportunity to monitor job performance and process variation.
We also got to spend some time at the Bunsen facility, which is known for its patented, lights-out manufacturing processes.
C: I agree, learning more about RJG and the level to which PCI uses it, has been incredibly valuable as I move forward with my plastics engineering education. In addition, learning about the incorporation of automation and robotics gave us a better understanding of the company's scientific molding processes.
Connecting with Others Who Work in Injection Molding
Q: What were some of the ways you were able to make connections during your internship?
E: Having the opportunity to spend time in different departments allowed me the opportunity to make good connections with many different groups. Not only was it great to establish what I hope will be long-term relationships, but also to see how integrated processes are among departments and the importance one step in the process is to the next.
C: It was fun to be a part of communication with team members, vendors, and meet some of PCI's customers. I can't thank the team of design engineers, project lifecycle managers, sales representatives, and many more, for so willingly sharing their expertise and advice.
Taking Part in Internship Extracurriculars
Q: What was the most memorable part of your experience?
E: I greatly enjoyed spending time with the other interns and getting to know the PCI team members. We were really grateful for the activities we got to take part in outside of work including a Milwaukee Brewer's game, Summerfest, visiting downtown Milwaukee, and a couple of weekend excursions. The Brewer's game was likely my most memorable day because it was a really exciting game and it was fun to see a good team play.
C: I also really appreciated all of my experiences with the PCI team members but my most memorable day was probably when all of the interns visited Bradford Beach. Downtown Milwaukee is a beautiful and fun place to hang out with friends. I couldn't have asked to be with a better group.
Transitioning from College to Career
Q: How has your internship experience made an impact on the type of employment you will seek after college?
C: It's opened my eyes to the opportunities that are there for me once I graduate - I know now I don't have to go down a specific path. I'm looking forward to using the knowledge I gained during my internship throughout my last year of school and beyond.
E: More than anything, I look forward to staying connected with many of the people I've met during this internship experience and leaning on all they taught me - not only to help with making a decision on the type of job I should go after, but what to expect once I get there.
Why Choose PCI for Your Internship Experience?
One of the most exciting elements of the plastics industry is that it's made up of many areas and processes in which an individual has the opportunity to specialize from automotive, medical, and industrial to injection molding, thermoforming, prototype engineering, and more. Having a broad knowledge of all processes and polymers is helpful for young professionals when starting a career in plastics.
Additionally, job responsibilities in the plastics technology industry are oftentimes multi-functional. From prototype development, engineering, tooling, use of various software and technology, manufacturing and more, employees often touch all areas of research, design, and development.
Interning with PCI gives students the opportunity to not only gain valuable knowledge within all facets of plastic injection molding, but also take part in activities that will establish life-long friendships and connections.
Are you interested in applying for an internship with Plastic Components, Inc.? Visit our career page to learn more.