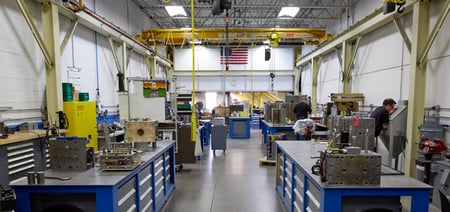 Transferring an injection mold tool does not need to be stressful or overly costly. There are a number of important questions to consider during the injection molding tool transfer process.
What are the benefits of an injection molding tool transfer?
It's important manufacturing competencies and quality requirements are evaluated as early as possible to ensure the partnership is a good fit for both parties. Transferring a tooling asset can be an opportunity to re-align competencies and requirements. The transfer process is also an opportunity for a third party to complete a comprehensive evaluation of the condition of the mold.
What are the cons of an injection molding tool transfer?
In many circumstances, it can be challenging to obtain accurate and detailed tooling records for older assets. However, in today's digital era, tooling records (both build and ECN) are much easier to obtain.
What are some best practices for injection molding tool transfers?
Plan a reasonable time buffer, if possible, to ensure adequate supply throughout the transfer, evaluation, conversion, and re-qualification portions of the process.
Share the reason for the transfer.
Develop a transfer checklist to ensure you provide or receive current information. This list can be lengthy, but should always include part drawings, 3D files, last shots, dimensional records, quality gages, maintenance history, quality history, tooling drawings, any auxiliary or robot requirements, etc. Download a helpful checklist to get you started here.
Allow the new injection molder at least a week to conduct their own tooling evaluation, and to replace fittings, couplings, and connectors to suit their practices. As an example, PCI's team often needs time to route channels in the ejector plates for pressure sensor wiring.
Complete a full dimensional layout after the transfer. Note: This is an opportune time to re-assess plastic component conditions and dimensional results.
What should a manufacturer look for in a new injection molder?
Financial stability.
A solid track record of following a clean procedure plan that will be evaluated step-by-step and documented. The plan should educate all personnel from sales, engineering through to production on what is to be expected before the tool arrives to the facility.
A strong design for manufacturing process (DFM) process that shows the value that could be missed if design, prototype, and production are treated as separate processes - rather than integrated into one manufacturing chain.
Mold simulation software (e.q. SolidWorks). Injection molders that use mold simulation such as SolidWorks Plastics Premium software provide up-front design validation that offers insight into plastic part geometry that would be difficult, expensive, or impossible to predict by conventional means.
Manufacturing – it's critical the injection molder have both production capacity and existing machines that suit the requirements (tonnage, barrel size, platens, etc.).
Quality – the new injection molder should have the quality systems in place to sustain and control optimum part quality.
Materials – the injection molder should have processing and logistics competencies in the appropriate resin categories.
Value-Add Requirements – the injection molder should have the equipment and labor resources to ensure the part can be shipped as intended.
What should you expect from program management team roles?
Your team will be made up of an account manager, account engineer, program launch manager, tooling and quality representatives. This team is responsible for all facets of the takeover process from timeline management, tool review and assessment to sampling and PPAP submission. They are there to efficiently move your transfer programs through the process in a timely manner.
What are the phases of an injection mold tool transfer process?
Partnership: Key to the success of the project in establishing and maintaining defined communication channels.
Assessment: During this time, the team works with the customer to thoroughly understand production functions from order entry to shipment.
Schedule: Based on the on-site assessment, a transfer schedule will be developed.
Safety stock: Six weeks is a typical time frame for safety stock allotment.
Validation: The goal of validation is to obtain customer approval on each part that will be produced in the new injection molding facility.
Production molding: Once part validation is complete, the new injection molder's production team will begin to produce the plastic components.
All phases of the plastic injection tool transfer process are critical - particularly the validation phase. Working with an experienced injection molding team that uses the latest technology and innovative manufacturing processes will mitigate associated risks and get your part to the production molding phase faster. Working with a team that has depth in their technical backgrounds will be an integral asset to the commitment and investment made to the transfer process.
Are you looking for the right partner to help facilitate an injection mold tool transfer? Plastic Components, Inc. is here to help. Download our tool transfer checklist here - or contact one of our experienced engineers to discuss your immediate needs.