How RJG eDart Transformed PCI's Injection Molding Operation - Q&A with Director of Engineering Kurt Behrendt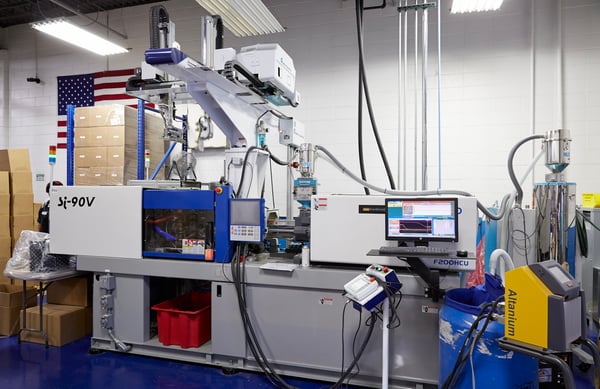 Injection molding technology has evolved greatly since the Hyatt brothers patented the first injection molding machine in 1872. Their initial plunger design was improved upon in 1946 when James Hendry created the first auger injection molding machine.

But it wasn't until the computer age when advances to the injection molding process started to take shape. Today's plastic injection molders must stay at the forefront with scientific molding principles and processes to meet the demands of quality, consistency, efficiency, production, and cost savings.

One of the ways PCI has remained competitive with its large OEMs has been to embrace the RJG eDart® system of advanced process control. In a nutshell, the eDart system helps plastic injection molders stabilize their process to ensure the highest quality while reducing costs.

Throughout the course of this Q&A with PCI's director of engineering, Kurt Behrendt, we'll discuss more details of the eDart apex system for advanced process control and its impact on PCI's injection molding operation.
When did PCI first realize the need for RJG eDart advanced process control systems in its injection molding operation?
It began when we faced a two-fold challenge for incorporating the RJG eDart system in our injection molding presses, both of which were customer-driven. First, we had a customer that required large amounts of SPC data and CPK studies for some of their more vital parts. Secondly, we had a high-volume critical part that would periodically start to blister, and we couldn't figure out why that was happening.

In response to these challenges, in September of 2009, we purchased our first two RJG eDart systems. And within the first two years, we quickly added more and the sensors to our tooling standards.
When did PCI convert all presses to include RJG?
In 2010, PCI embarked on a 2-year journey to incorporate RJG eDart compatibility on all presses. Additionally, in 2011, PCI adjusted specifications for all new presses to be delivered with E-Dart systems hardwired and mounted directly on the press.
Why was incorporating the process control system on all presses a vital initiative for PCI?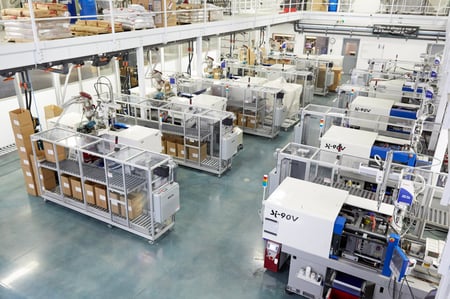 PCI targets very high press utilization rates. High utilization requires flexibility from an agile fleet of presses and a solid foundation in scientific molding. E-Dart systems brought additional control and flexibility to map and control highly-tuned processes with in-mold pressure sensors. As PCI continued to convert presses with eDart systems and molds with pressure sensors, we quickly reached a critical mass where a plant-wide conversion became inevitable. Closed-loop process control was now ingrained into our operating culture.
How have the RJG eDart systems changed PCI's injection molding processes?
PCI has always focused on scientific molding process development. RJG enhanced that approach with a second level of process control via decoupled molding. Traditionally, our process optimization sequence was designed to develop a set of press parameters that would net a robust process window. RJG's eDart systems enabled machine control based upon the plastic pressure in the mold. As a closed-loop system, our machines could now compensate for plastic pressure fluctuation due to changes in viscosity from resin formulation. Maintaining and controlling plastic pressure is a vital element of molding a consistent product. Producing a consistent product drives significant value in both quality control and flexibility since the process is mapped to the mold versus a specific molding machine. Our engineers and technicians could now monitor, control, and contain the same process across multiple runs with multiple machines and lots of material.
What are the main benefits to customers?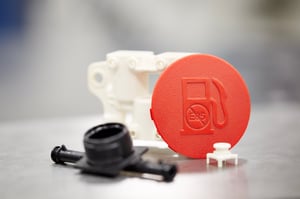 The primary benefit to PCI customers is quality, or in other words, remarkably consistent product. By coupling press and eDart control, we can deploy a robust, closed-loop molding process that maintains consistent plastic pressure and limits variation in the part. This high level of control includes the ability to reject products based upon press and eDart alarm limits. The net result is extremely consistent quality parts in the box for shipment, as well as less scrap material for recycling.
PCI's customers also benefit from on-time delivery. RJG's eDart systems allow us to map processes to the mold versus the press. As a result, PCI can deploy these processes across a more comprehensive array of presses while maintaining the same process control level. This consistency results in more presses that are available to satisfy the needs of our ever-changing customer demand forecasts.
Why does PCI produce better parts with the RJG eDart systems in place?
Implementing the RJG eDart system has led to transformational change in managing part consistency across different material lots with reduced scrap and processing time. PCI molds products in well over 100 different resin types, with most engineering-based resins with varying filler contents. By nature, these resins have a wide range of viscosity due to both resin formation and filler content. Scientific molding already limits some of the impacts of viscosity variation. Still, the RJG eDart system enables PCI to monitor and control in-mold plastic pressure variation within the molding cycle. This advanced level of process control means that plastic pressure is controlled on every cycle. Maintaining consistent plastic pressure is a crucial element of delivering a consistent product.
Are you looking for the best material for the development of a complex plastic part? Download PCI's High Temperature Plastic Guide here.
How Does RJG support the needs and work of PCI engineers?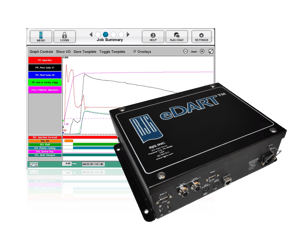 Taking a leadership role in innovation and technology across all PCI areas is core to our DNA. As a result, process control is at the heart of our engineers' mission, who rely on RJG in many ways. For starters, RJG eDart process mapping is a requirement for all new mold qualifications at PCI. An RJG trainer visits PCI every quarter to refresh training and to audit our processors. Our engineers often take these opportunities to further develop their knowledge of in-mold pressure sensing and control. They can independently specify the placement of pressure sensors on new mold designs, but RJG does offer assistance for challenging applications. Finally, our engineers can also rely upon a shot-to-shot history that is saved within the eDart system for troubleshooting and root cause identification.
Does the RJG eDart technology have greater or less impact on different types or sizes of parts?
We have found RJG dDart technology to apply to all sizes of parts. The technology is beneficial for large parts that are molded in commodity resins with high shrinkage rates. It is also beneficial for small, more critical components in highly-filled engineering resins. As a golden rule, PCI designs every mold for in-mold pressure sensing. Our customers require a consistent product, and closed-loop processing via eDart control is the solution.
Plastic material shrinkage occurs in the contraction of a molded part as it cools after injection. Learn about typical molding shrink rates by downloading PCI's Plastic Injection Molding Material Shrink Rate Chart.
What are some of the training protocols for PCI team members who utilize the technology?
RJG has a tremendous training infrastructure, and it is critical to a molder's success with their products. The RJG systems are not a simple flip of the switch, and it solves all of your problems, but rather a technological tool that can provide dramatic results for the molder when utilized to its maximum.
To be most effective with RJG, it requires that the human talent on the production floor understand its capabilities. We use online, in-house, and remote in-person training offered by RJG. The online options are great introductory classes for our entry-level molding technicians. The remote in-person training is designed for the top-level Master Molder candidates and hands-on at the RJG training facilities. The in-house option is one we helped create with our RJG trainer to allow for incremental advancement through different stages of RJG comprehension.
The trainer spends 3-4 days onsite at our facility multiple times per year, helping teach and train our technicians on RJG and scientific molding principles. This is a very valuable opportunity for our production personnel and is something that everyone looks forward to.
Are there any other technology advancements or enhancements planned for PCI in the months ahead?
We are interested in combining AI (artificial intelligence) and machine learning with RJG to improve our real-time process control. We have the utmost confidence that the RJG systems will control the manufacturing variables. Still, we want to take it to the next level to be proactive in reducing the variables altogether. This effort will require a next-level ability to analyze the RJG outputs and create action plans to address the variables present in the molding processes.
About Kurt Behrendt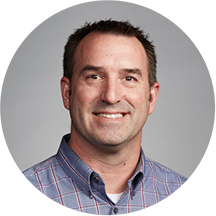 Kurt Behrendt is PCI's director of engineering. He began his career with PCI as its engineering manager in November 2015 and became director of engineering in December of 2019. Kurt holds a Bachelor of Applied Science in Mechanical Engineering from the University of Wisconsin-Milwaukee. He received his M.B.A from Keller Graduate School of Management of DeVry University in 2004.

Is your current injection molder using the latest data-driven scientific molding technology to achieve the highest quality precision parts? Contact PCI's experienced team of engineers to discuss your immediate needs.