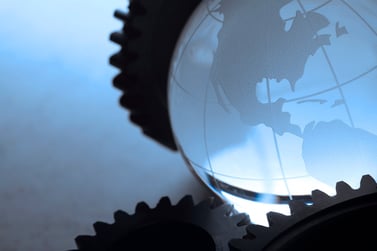 Near the end of the 20th century, America's manufacturing dominance began to decline as the result of many global economic changes including new trade agreements, and the rise of low-cost offshore producers. In fact, according to the Bureau of Labor Statistics, the U.S. lost 30 percent of its manufacturing jobs (from 18 million to under 12 million) between the years of 1990 and 2009. Plastic injection molding was not immune to the effects of offshore production shifts as components could be made at lower cost, particularly in China, in locations where wages were lower than in the U.S. However, as the standard of living has improved in many developing countries, workers are demanding higher wages and production cost disparities have significantly declined. According to Trading Economics, China's average yearly wages in manufacturing increased anywhere between 10 – 20 each year percent between 2010 and 2016, with overall average wages nearly doubling during that time.
With the offshore wage gap narrowing substantially, in recent years manufacturers have taken a close look at the many other factors that go into the total cost of production outside of the U.S. Many businesses that shifted production to offshore markets in the last 20 years are now recognizing that these factors, and their associated costs, overtake the benefits of offshore production. A recent feature in Industry Week cites reshoring and foreign job announcements surging in 2017 to over 170,000 U.S. manufacturing jobs – proving that work can be brought back, which is especially relevant during a time of intense debate of tariffs and the trade deficit.
The rise of reshoring has had an incredible impact on manufacturers in the U.S. – including injection molders. Shifts over the years have required molders to show considerable agility, understanding and adoption of technology and services that set U.S. injection molders apart, and education associated with the real costs and quality factors of producing components outside of the country. The transition back to what is the current reshoring movement certainly posed many challenges for U.S. injection molders over the years, but in many ways has instilled the advancement of many innovative manufacturing practices. Here are eight ways reshoring has helped make domestic injection molders better:
1. Focus on Quality
In 2007, the Consumer Product Safety Commission recalled 473 different products, of which more than 80 percent involved imported products, and three-quarters of those were from China. American manufacturers are held to very specific safety and quality standards, laws, and regulations. In addition, full regulatory compliance includes certification of resins and colorants.
Parallel to quality standards, safety is a significant benefit to producing plastic components in the U.S. The standards American regulations keep in place to ensure the safety of employees, adds to the safety of the products themselves, as customers can feel confident that the plastic parts are not toxic or unsafe.
2. Uncomplicated Supply Chain
It's a simple concept that the longer the supply chain, the more complicated the process. Using an offshore manufacturer presents a number of challenges in regard to communication, production management and lead times. There is also little room for flexibility when a design or production element needs to be tweaked. Manufacturers are at risk for taking on unusable parts or paying more for expedited delivery. Reputable U.S. injection molders place a strong focus and value on close collaboration among all contributors including project managers, purchasing agents, design engineers, service representatives and more to ensure ease of production and transport – getting products to market faster and on budget.
3. Personalized Service with a Focus on Design for Manufacturability
Manufacturers are becoming more aware of the value of involving injection molders early in the design process. In fact, early design considerations rank at the top of the list of factors that can reduce the cost to manufacture. According to Boothroyd Dewhurst Inc., the first company to commercialize design for manufacture and assembly (DFMA) methodologies, 80 percent of the cost of a new product hinges on the design.
Over the years, finding an injection molder with a robust DFMA service offering has become increasingly important to ensure production efficiencies. Not typically a strength of offshore molders, DFMA is essential when creating a part with a production mentality that thoroughly reviews mold type, resin choice, design elements that can reduce production time and cost, and much more.
4. Shorter Lead Times and Lower Shipping Costs
The distance a product must travel from an offshore location to the U.S. can be a difference of weeks and even months. China has especially proven to be unreliable in regard to delivery times. These factors considered, decreased shipping times from U.S. locations, ease of communication and continuous production involvement can make a big difference in overall lead times when working with an American injection molder.
5. Technology and Automation Advancements
According to Global Market Inc., injection molders have established themselves as some of the most dynamically evolving businesses in recent times – particularly in the U.S. Technologies, processes, and materials used in injection molding continue to advance, allowing manufacturers better insight to design, develop and produce the highest performing and cost efficient plastic parts. Key areas that should be of focus for injection molders are the advancements in automation, sustainable practices, and software that allow for parts to be analyzed and tweaked virtually before production.
The impact of automation has affected virtually every industry, and the deployment of automated tools and robotics in the injection molding industry has been monumental for companies focused on this type of technology to transform their business. Automation has allowed for the boosting of speed, accuracy, agility, integration of highly-skilled workers – all resulting in significant increases in production.
6. Protection of Intellectual Property
Keeping design, development, and production of a part under one roof is essentially impossible when working with an offshore injection molder, and currently an evolving service approach for many domestic injection molders. Manufacturers are able to retain important knowledge gathered throughout every phase of the development process when they work with a trusted partner. Not doing so can cost critical time and budget dollars, and puts your intellectual property at risk.
7. Less Environmental Impact
The domestic injection molding industry as a whole has been working diligently to decrease energy consumption and create bio-based and recyclable products. Thanks to advances in engineering, newer injection molding equipment now uses between 20%-50% less energy compared to those released just ten years ago. Additionally, reputable injection molders who care about the environment will put manufacturing practices in place to minimize waste, transportation and packaging costs.
With automation, advanced molding partners can use less material and energy in the production process. When shipping resources are considered, there is no doubt that overseas shipments place a much higher burden on natural resources. Depending on location, systems can now be established with U.S. injection molders to offer reusable packaging solutions for customers – further cutting down on waste.
8. Total Cost of Ownership
Cost is a critical factor in the production of any manufactured part. It is not uncommon for manufacturers to place cost at the top of their list when selecting an injection molding partner. Reshoring has placed a greater focus on choosing a partner that will provide the level of quality that ensures successful end-use production. According to Harry C. Moser, president of the Reshoring Initiative, when companies make sourcing decisions based solely on price, there is often a 20 to 30 percent miscalculation of actual offshoring costs. Factors including overhead, risks, corporate strategy and other business components also need to be considered to determine the true cost of ownership (TCO). The Reshoring Initiative makes it easier for companies to determine TCO with a free online estimator to determine these costs.
Many elements including design, development and production standards drive domestic injection molders to produce quality parts that international suppliers cannot match. The benefits of reshoring and manufacturing in the U.S. far outweigh the perceived lower cost of overseas production. Ultimately, working with American manufacturers supports many facets of our country's economy and business landscape.
Are you looking for an experienced, innovative, U.S. – based plastic injection molder? Learn how PCI delivers mission-critical, medium to high volume engineered thermoplastic components for diverse market applications by contacting our injection molding experts.